Our $21 New Patient Special includes a
consultation, exam, x-rays, and full spine adjustment on your first visit.
What To Expect
On your first visit we try to answer the 4 Big Questions that everyone has.
What's Wrong?
Can you help me?
How long will it take?
How much will it cost?
What's wrong?
We will figure this out by taking x-rays of your spine and performing a spinal exam.
Can you help me?
Yes, 80-90% of our patient's experience a full recovery while some patient's get better, but not all the way.
How long will it take?
That depends on what we see on your x-rays, how long you've had the problem, occupation, and exercise habits.
How much will it cost?
That will depend on your insurance plan, deductible and copays. We will go over this at your second visit after we get your benefits. For our cash or time of service patients our the initial visit will be $125 which includes an exam, x-rays and full spine adjustment. Follow up visits can range from $40-50 depending on your care plan and any applicable discounts (doctor, nurse, fireman, police, military).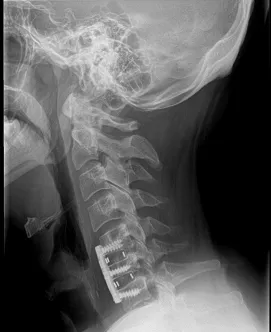 Can you be adjusted after spinal surgery, fusions or Herrington Rods?

The short answer is yes!
The screws, plates and rods used in surgery are very strong and will not break or pull out with an adjustment. We've helped hundreds of patients with post surgical pain and dysfunction with no adverse events or reactions. Here's an x-ray of our patients who had surgery after an automobile accident. He continued to have pain radiate into his shoulder after the surgery, in only a few visits he's starting to see improvement.
Can you be adjusted if you have a disc bulge or herniation?
Yes, disc bulges and herniations respond very well to chiropractic adjustment. The reason disc
can bulge or herniate is due to lack of motion within the joint. When the joint can't move properly the disc become weak and start to bulge out due to compressive forces. Chiropractic adjustments restore the normal motion, decreases the pressure on the disc and nerves which allows the joint to heal and become stronger.
Above is the link for our new patient paperwork, you can fill it out at home or at the office.